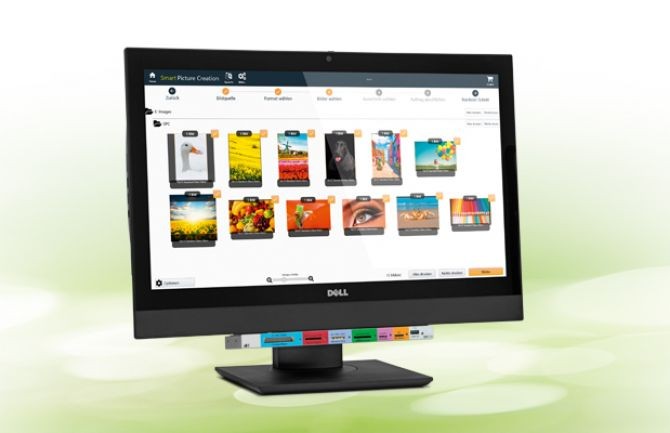 Customer Terminal
The kiosk – the centrepiece of photo business in your store
Easy, intuitive operation thanks to the same user interface as in online and app versions.
Shows all your photo products: photos, greeting cards, photo books and much more.
Set up and update your range of photo products, including prices, with the Smart Picture Lab order manager software.
State-of-the-art, high-performance kiosk system: Intel Quad Core i7 processor/3.6 GHz, 8 GB RAM, 2 GB graphics card, Windows 10 Pro*, USB 3.0 data interface, 23 inch multi-touch monitor, integrated Bluetooth 4.0 adapter, connection to standard smartphones*2 using multi-cable; receipt printer optional.
Features
Type/Model
Processor*
CT-DELL; Computer Dell Optiplex 7450 AIO Touch;
Intel Core i7-7700 (Quad Core, 3.6 GHz, 8 MB)
Main memory
Hard drive*
8 GB (1x8 GB) 2400 MHz DDR4;
500 GB hard drive (S-ATA III, 7,200 rpm)
Optical drive
Wireless*
Slimline DVD+/-RW drive (8x);
Intel Dual Band Wireless 8260 (802.11ac) + Bluetooth 4.2
Monitor
Touch screen*
Dell AIO - 23 inch
Capacitive (system-compatible with currently available Noritsu devices)
Operating system
Windows 10 Pro 64Bit English (can be switched to other languages on request)
Software Kiosk
"High Photo Transfer" ("HPT") and "Photo&Book"
Device connection
USB 2.0 and USB 3.0 connections, network connection on CT
Input**
Via card reader bar AFT DR 7.3 media drive (USB 3.0) underneath the monitor and using adapter cable, e.g. for smart phones
Digital image data in file formats JPEG, TIFF, PNG, RAW as DNG and S/W, CN and CU material and reflective materials after digitizing using optional scanners, with additional connection of manufacturer and model-dependent mobile terminal equipment by cable or Bluetooth
Image output
Via Noritsu minilabs, inkjet devices, IP-64 thermal printer
Footprint and weight
Net floor space approx. 0.5 m²; approx. 6 kg
Power connection
At 230 V AC socket with 3-wire AC power cable fitted with cold-device plug
System-compatible accessories (optional)
Receipt printer TM-200 (USB)
Additionally
Easy to operate by consumers; network-enabled at Noritsu systems
Comments on *
Models and components may be replaced at any time by Mümken Sales GmbH – even without previous notification. Detailed, binding technical specifications as per device specifications and current, device-specific device manual. Devices may vary depending on country and equipment and may deviate in individual points from the data specified here.
Comments on **
Detailed, binding compatibility and capacity specifications of the storage media as per device specifications and current, device-specific device manual.