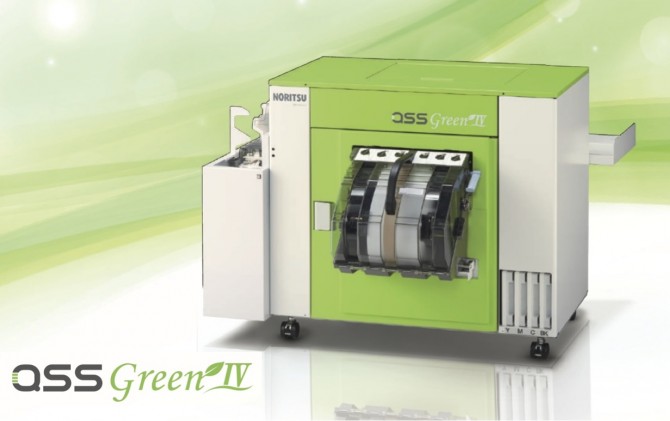 Noritsu QSS Green IV
The new bestseller
Based on the tried-and-tested QSS Green Simplex is now QSS Green IV even easier and more convenient. The operator of a QSS Green IV can produce image products either at the standard resolution of 720 x 720 dpi or at a higher resolution of 1440 x 1440 dpi. In contrast to the QSS Green Simplex, outstanding panorama images in the format 305 x 1757 mm could be printed, the maximum paper width of the new device has been expanded to an impressive 305 mm. An external paper cassette allows for the QSS Green IV to have up to two different paper sizes loaded at any one time. This allows the QSS Green IV to bring a greater range of services. Optional 8 shelf print sorter unit could be added.
Features
Type

Inkjet device for volume printing of images and for value-added large panorama image production

Input*

Digital image data in the file formats JPEG, TIFF, PNG, RAW as DNG and S/W, CN and CU material and reflective materials after digitizing using optional scanners

Paper widths
Paper step lengths

102, 127, 152, 203, 254 and 305mm
from 8.9 cm to 175.7 cm

Processing formats (nominal sizes)**

For single-sided printing from 9 x 13 cm to 30.5 x 175.7 cm

Maximum output format (nominal size)**

Panorama printing 30.5 x 175.7 cm

Processing capacity (nominal output)**

670 pictures/h 10 x 15 cm at 720 dpi
120 pictures/h 30 x 45 cm at 720 dpi

Printing system

Piezo-inkjet technology; 4 colors with dot size manipulation (DSM)

Resolution (selectable)

720 x 720 dpi or 1440 x 1440 dpi

Special features

Paper widths up to 305 mm (12 inch), paper deck with fixed and easy-to-clean absorbers; optional 8 shelf sorter unit

Space requirements and empty weight of device

Net floor space approx. 0.46 m²; working area with movement zone at least 2.5 m²
Weight without paper approx. 120 kg

Power connection and output

230 V AC socket outlet / 16 A / max power approx. 1,000 VA

System-compatible accessories (optional)

Noritsu Film Scanner models LS-600, LS-1100, HS-1800; "Smart Picture Creation" customer terminal and retailer/customer order processing software

Additionally

Easy operation with EZ Controller, an up-to-date control computer (workstation); network-enabled via RIP PC
Comments on *
Input at EZ Controller or system-compatible HPT terminal using currently available digital storage media (detailed, binding compatibility and capacity specifications of storage media as per device specifications and current, device-specific device manual)
Comments on **
Detailed, binding processing format and performance specifications as per device specifications and current, device-specific device manual.
Devices may vary depending on country and equipment, and may deviate in individual points from the data specified here.