Noritsu SPB-1 photo book binding system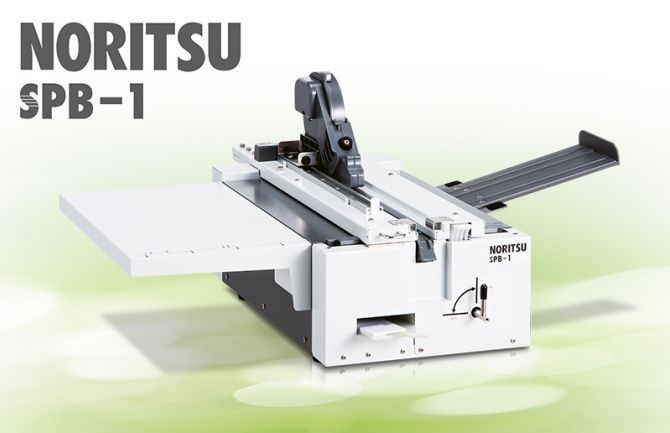 SPB-1 photo book binding system
Simple lay-flat photo book design
With the new SPB-1, Noritsu supplies a purely mechanical binding system for all self-processors wishing to produce an attractive lay-flat photo book for their customers within a short time. This binding method is particularly popular as the photo book pages are completely flat when the book is opened.
With the inexpensive and easy-to-use SPB-1 it is simple to produce a lay-flat photo book (refer to link to video). The strong, 11 kg binding system comprises a body with a left-hand and right-hand support for the book and cover pages, whereby one of the surfaces can be moved vertically and fixed in position. A carriage element with roll dispenser and an integrated cutter is located in the centre of the device. For binding with the SPB-1, the pages that are opposite one another in the book are positioned on the supports. The end stops and format marks facilitate alignment and exact positioning of the pages. When they are firmly secured in place, the operator pulls the dispenser element down over the back fold and connects the pages with a special transparent adhesive tape. Excess tape at the top and bottom can be manually removed with a special cutter segment that is included in the scope of supply of the SPB-1. The resulting book block is then ready for binding in a hard or soft cover. When the book block is bound with the hard cover, the SPB-1 facilitates exact assembly with its large support area and flexible positioning elements.
Depending on the paper thickness of the photo book pages, the device can bind 10 to 80 pages in all conventional formats from 152 mm (5 inches) to 305 mm (12 inches). Photo retailers can therefore use the SPB-1 to produce square 15 x 15, 20 x 20, 30 x 30 cm photo books as well as portrait and landscape photo books in the formats 20 x 25 and 20 x 30-cm (A4). Noritsu also supplies the respective hard covers. Binding a 20-page 20 x 20 cm photo book with the SPB-1 takes around 10 minutes. With all extending parts, the maximum space required by the device is 559 x 637 mm; with the necessary handling and assembly zones the recommended minimum working area is around one square metre (refer to the dimensions and working area diagram).
Short descriction: Creation of a lay-flat photo book
Detailed description: Creation of a lay-flat photo book