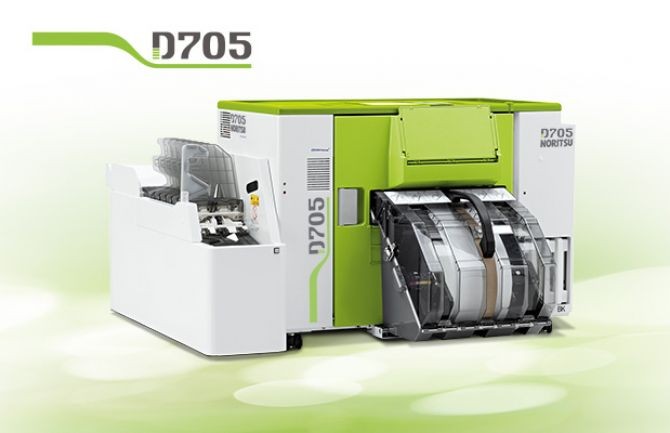 Noritsu D705 Green
For entry-level and new users
Just like the current Noritsu dry labs, the D705 can print on either one side or both sides. It is therefore suitable for both pure image production and for the production of individual value-added photo products. The model produces images in various formats from 9 x 9 cm to 25 x 30 cm and up to 25 x 61 cm, and optionally even in the panorama format 25 x 171 cm. It can even output A4 prints on sheets. Using a second paper magazine for paper rolls, it allows you to conveniently and efficiently structure your image products. Placing one D705 on top of another and linking them allows pictures to be produced at twice the volume – up to 1,300 prints per hour in the 10 x 15 cm format. Paper sheets fed into the single-sheet feeder are used for duplex printing.
Features
Type
Inkjet duplex device for rolls and sheets for volume printing of images and for value-added image production
Input*
Digital image data in the file formats JPEG, TIFF, PNG, RAW as DNG and S/W, CN and CU material and reflective materials after digitizing using optional scanners
Paper widths
Paper step lengths
102, 127, 152, 203 and 254 mm
from 8.9 cm to 175.7 cm (using an optional RIP PC)
Processing formats (nominal sizes)**
For single-sided printing from 9 x 13 cm to 25.4 x 174.0 cm *1
For duplex printing from 10 x 20 cm to A4 (21.0 x 29.7 cm)
Maximum output format (nominal size)**
Panorama print 25.4 x 174.0 cm *1
Processing capacity (nominal output)**
650 pictures/h 10 x 15 cm at 720 dpi
195 pictures/h 25 x 30 cm at 720 dpi
Printing system
Piezo-inkjet technology; 4 colours with dot size manipulation (DSM)
Resolution (selectable)
720 x 720 dpi
Special features
Paper widths up to 254 mm (10 inch), standard delivery with an exterior tray and an internal spindle for paper rolls; paper deck with easy-to-clean absorbers; optional 8x sorter with visual display of job interruption; duplex print from paper stack feeder and with removed back printer
Space requirements and empty weight of device
Net floor space approx. 0.35 m²; working area with movement zone at least 2.5 m²
Weight without paper approx. 100 kg
Power connection and output
230 V AC socket outlet / 16 A
System-compatible accessories (optional)
Noritsu Film Scanner models LS-600, LS-1100, HS-1800; RIP*-PC (Raster Image Processor); "High Photo Transfer" customer terminal and retailer/customer order processing software
Other
Easy operation with EZ Controller, an up-to-date control computer (workstation); network-enabled via RIP PC
Comments on *
Input at EZ Controller or system-compatible HPT terminal using currently available digital storage media (detailed, binding compatibility and capacity specifications of storage media as per device specifications and current, device-specific device manual)
Comments on **
Detailed, binding processing format and performance specifications as per device specifications and current, device-specific device manual.
Devices may vary depending on country and equipment and may deviate in individual points from the data specified here.
Comment on *1
Max. step length 175.7 cm using an optional RIP-PC, otherwise max. step length 60 cm